Katri Guesthouse
Affordable accommodation on Hiiumaa
In our guesthouse, you can have a relaxing holiday with your family or organize events for bigger group.
We are open all year round and offer accommodation for up to 40 people. Two buildings have a total of 12 one- to four-bed rooms with toilet and shower.
Additionally we provide: breakfast, conference room, sauna, lawns for different ball games, fireplace and barbecue, swing, camping possibility.
Katri Guesthouse is situated on Hiiumaa, Tubala village, 5 km (3 miles) away from Kärdla. We are located in the middle of the beautiful scenery, beautifully surrounded by forests and fields, the sea is only in distance of 5 km (3 miles).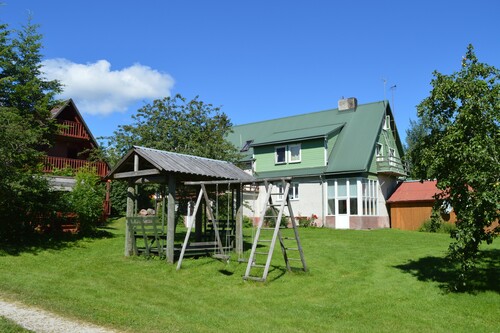 Main house
Open all year round
5 rooms, accommodates 12, sauna, big open terrace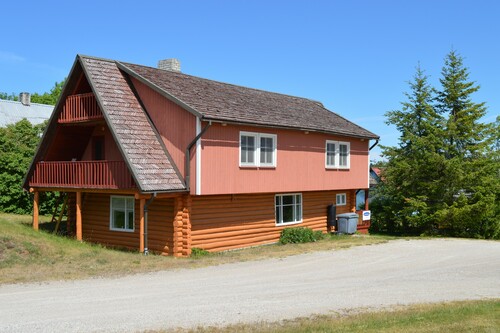 Food hut
Events for bigger groups
On ground floor hall for 30 people with fireplace and kitchen corner.
On first floor 4 3-bed rooms with toilet and shower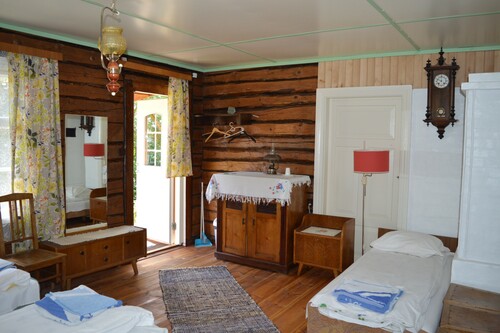 Farm room
Historical farm room from year 1934
4 beds, toilet, shower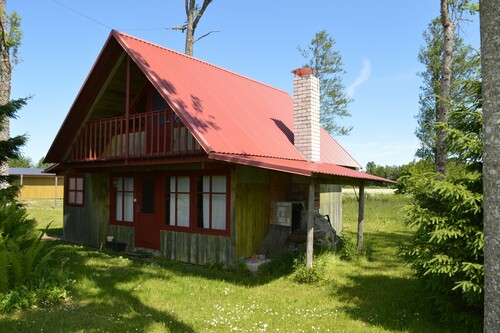 Big bungalow
Good choice for smaller company
Accommodates 6 persons on the ground floor and 4 on the first floor.
Washing facilities, toilet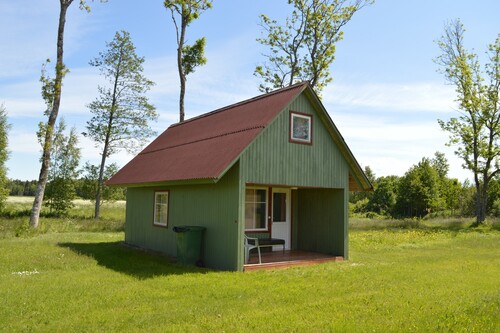 Summerhouse
Suitable for family
On ground floor living room with kitchen corner, shower and toilet. Accommodates up to 7.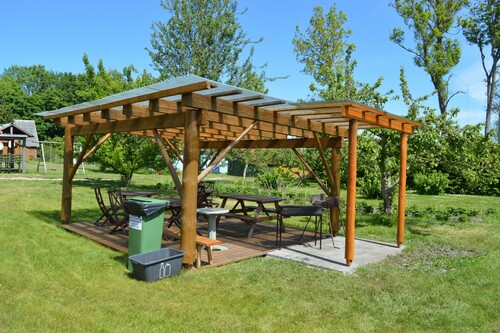 In yard
Camping places, barbecue pavilion, basketball and football fields.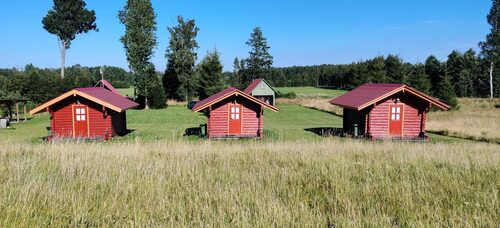 Bungalows
Every bungalow has 3 beds and 1 bunkbed (accommodates 4-6)
Each stop in life has a meaning, as well as moving. Everything here in Tubala village speak genuine story of Hiiumaa: those two beautiful old windmills, as well as spacious fields and meadows. In the edge of the village, however, is something special – the view to 455 million years old meteorite crater. Not far away stands a large boulder, which by a legend has witnessed meeting of two ancient heroes – Leiger and Suur Tõll. And finally, a pile which anchors the island Hiiumaa to the Earth. This is why people of Tubala are known among neighbours as "ehthiidlane" or "real hiidman". Yet we are not only bounded with ancient memories. A new wood-heated ceramic oven along a rural route attracts creative people from near and far. So, the list could go on, but presumably you can find by yourself exactly this, what is close to your heart.
In our neighbourhood are situated following points of interest:
Accommodation:
Adults – 20€
Child 0-12 years discount 50% – 10€
When you are booking accommodation for longer period, discount is possible.
Minimum price for summerhouse is 100€ per night
Price for the whole bungalow is 70€ per night
Additional services:
Breakfast – 6€
Breakfast for children (0 - 12 years) – 3€
Sauna – 15€/tund
Camping – 5€
Tubala küla, Hiiumaa 92311
+372 5648 2869
info@katrimajutus.ee